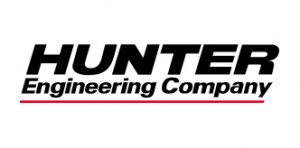 We are the only service centre in Peterborough to have the world's leading 4 wheel alignment equipment from Hunter.
Correctly aligned wheels:
Reduce uneven tyre wear

Improve vehicle fuel efficiency

Increase vehicle handling and safety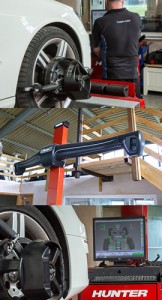 Our expert team have been specially trained to ensure that your vehicle alignment meets the specifications set by your vehicle manufacturer. The Hunter equipment is specially designed to ensure optimum vehicle performance whilst not marking your delicate alloy wheels.
What is Wheel Allginment?
In order to achieve and maintain the best ride possible, the steering and suspension needs to be measured and adjusted within the motor manufacturer's specifications. This can only be done by measuring all four wheels and having a proper full four wheel alignment measurement.
Why Hunter?
Our Hunter four-wheel alignment equipment offer the most accurate wheel alignment technology available. It uses a series of high-definition sensors which measure the position and orientation of the wheels with pin point accuracy. This alignment is processed by the ProAlign software which features a database containing more than 20 years of factory vehicle specifications to ensure your wheels are accurately aligned exactly as your manufacturer intended. 
Specialist Vehicles
Hunter wheel alignment offers a greater level of accuracy and adjustment than most commonly used systems. This is why Hunter is the alignment system of choice for many performance and specialist vehicles such as drift and competition cars.
---
Being the only Hunter alignment specialists in Peterborough, we are the the alignment specialists of choice for a large number of dealerships in the area. Some coming from as far afield as Cambridge.
Contact us today and make your tyres last the distance.